Jacqueline Kowalsky
SWM Director of Communication & Publications
jacquelinekowalsky@yahoo.com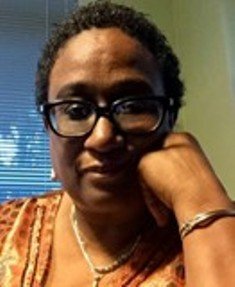 Jacqueline Kowalsky is a Corporate Trainer and published Author of two children's books. She helps corporations optimize their return on investment in technology by designing and delivering technology education courses and courseware for their employees.
After attending both Catholic Elementary and High Schools the hypocrisy she witnessed demonstrated by the nuns, made her question what they were teaching. Always believing in God the Father, Jesus Christ His Son, and the Holy Spirit she drifted away from weekly attendance to only going on holidays. Her sister had given her a bible, and tried to get her "saved" but she was still holding on to Catholicism.
Jacqueline had a family and a successful career and after working at Fortune 500 companies, she found herself without a job and not able to get one! As she recalls "Companies were paying big money for my knowledge but I couldn't get a job! The Lord had placed me in the desert, but I didn't know it at the time. All of life's pressures (marriage, finances, unemployment, eventually sickness, etc.) were bearing down on me, and it took a cousin who lived about 20 miles away, to send my Mother who was living in FL (1700 miles away) an invitation to a cantata at her church which was 1 mile away from where I lived. I still have the invitation to "The Promise" at Upper Room Ministries Dec. 18, 1992 @7:30 that my Mother and I attended and it was there that the Lord called me. I went back the next night, and the next, having accepted Jesus Christ as my Lord and my Savior. It was so amazing!! I searched for and found the bible my sister had given me, and as I was reading it, I was falling in love with Jesus! I attended service on Sunday and Wednesday and sometimes Friday, and although I still wasn't working, I knew the Lord was working on me!"
Jacqueline recalls that in "November of 1993 she got a job, and the Sunday night before starting she had a seizure and was hospitalized for almost one week! All she knew was that she had to touch the "hem of His garment", she had to get to church! Jacqueline said: "Let me tell you about God… that new job that I was supposed to start, the IT manager held the job for me for two weeks with pay!! Now that is God!!I remained at Upper Room in service to the Lord as a leader in the Greeter/Usher ministry, the ministry for the sick, attended Oral Roberts University through Upper Room, was baptized by immersion and received the Holy Spirit, and through the laying on of hands by Bishop Anthony D'Onofrio commissioned to GO! Currently, I attend Church by the Glades and am serving Soul Winning Missions as the Communications /Publications Director."
Pastor Jessie White
SWM Director of Counseling
PastorJessieWhite@yahoo.com
Pastor Jessie S. White is the Pastor of "From the Roadside to the Mountaintop Ministries, International of Bloomfield, Connecticut. She was born in Palatka, Florida. Her parents, Jesse James and Sarah Sally Swinton were devout Christians and served as deacon and missionary respectively in the Church of God in Christ. After graduating from Central Academy High School, she traveled north to Bloomfield, Connecticut where her older sister had migrated years earlier. While living with her sister and brother-in-law she met a handsome U.S. Airman from the Eastern shore of Maryland, William Corlette White. They fell in love and were married fifty-one years ago on March 13th. Their union was blessed with two daughters Cheryl Denise and Lisa Renee.
Pastor Jessie S. White was called into the ministry in October 1981. She surrendered to the will of the Master and received her license to preach from Hopewell Baptist Church on March 6, 1983. In 1987 she earned a Bachelor of Religious Education from United Christian College of Brooklyn, New York. Pastor White completed the Hartford Seminary's Back Ministers Certificate program in 1997. From October 2000 thru April 2001 she completed her Clinical Pastoral Education Certificate from Hartford Hospital Department of Education, Hartford, Connecticut. In April 2015, Pastor White received her Master's Degree in Biblical Studies from Biblical Life College & Seminary and will be pursuing a Doctoral degree in Church Administration and Theological Studies from the same. Pastor White served as an associate minister of the Hopewell Baptist Church in Windsor, Connecticut for twenty-nine years, when the Lord led her to International Fellowship of Sanctuary of Faith and Glory Churches of Windsor, Connecticut under the leadership of Apostle Felton O. Best, Ph.D., in 2005.
Pastor White founded "From the Roadside to the Mountaintop Ministries, International of Bloomfield, kicking off the commencement of the fellowship in March of 2011 with a sermon entitled, "Do Not Despise Small Beginnings", taken from Zachariah 4:1-10. She continues to evangelize at correctional institutions for the past 35 years throughout the state including Osborn and Hartford Connecticut Correctional Institutions, and in other ventures that the Spirit leads. She ministers in hospitals, to the disappointed, the downtrodden, and the sick-and-shut-ins.
Currently, Pastor White is actively involved with an Outreach program called HOPE Accountability Group where God has given her a heart and an anointing for outreach ministry as mandated in Matthew 25:35-36 "For I was hungry and you gave me something to eat, I was thirsty and you gave me something to drink, I was a stranger and you invited me in, I needed clothes and you clothed me, I was sick and you looked after me, I was in prison and you came to visit me. The motto of this woman of God who is also a widower, mother of two adult daughters, proud grandmother of six, and a great-grandmother of one miraculous great-grandson.
Alexander Kwakye
Site Management
akwakye999@gmail.com
Alexander Kwakye is currently pursuing a master's in Biomedical Science at Florida Atlantic University and will begin his PhD in Genetics at Stony Brook University in the Fall. He comes from Ghana, where he spent part of his childhood with Pastor Stephen Sekyere, an evangelist who was beginning his ministry at Ayeduase, a town close to Kwame Nkrumah University of Science and Technology (KNUST), the university he received his bachelor's degree in Medical Laboratory Technology.
Growing up, he joined the Pentecostal Church of Ghana, and has kept the Pentecostal Faith since then. He got baptized at the Church of Pentecost in Ayeduase at the age of fourteen(14). He has been advocating for employing Christianity in the advancement of the socio-economics of the less-privileged, which makes SWM's efforts very attractive to him.
At SWM, he's responsible for maintaining the website and also very active in the Saturday Morning Bible Studies.